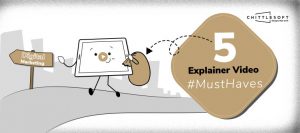 Explainer videos are short, 60–90 second videos that businesses use to explain how their product or service works or to tell their customers about their brand in as simple a way as possible. Explainer videos add value to a business by introducing an unknown brand to a potential customer, doing it visually to engage their audience. This is why they are known to significantly improve conversions. While some businesses have already seen the value of and embraced explainer videos, others are yet to enter the field. Engaging explainer videos may seem hard to get right, but with these five explainer video must-haves, your videos can have a meaningful impact on your customers.
1. Messaging directed at a target audience
Every marketing campaign demands first that the target audience be identified and analyzed to establish a solid connection with them. Additionally, this messaging must be succinct. Even though videos are known to be engaging, online viewers still have a short attention span. The messaging of an explainer video should be simple: it should tell the customer how the product will help them.
2. A well-structured script
A well-structured script is one that addresses specific areas in a logical flow. It introduces the problem, proposes a solution, and tells the customer how your business benefits its users with its solution. A good-quality script also avoids jargon and uses creative language and wording to add a dash of fun to the video.
3. High video and audio quality
To make a real impact, an explainer video must be of high quality. The audio and visual elements must be properly synchronized. It is a good idea to do the audio before the animation for the video or simultaneously, but never the video first and audio later. Another great way to illustrate the script and strengthen it is by using character animations and motion graphics to deliver your message in a compelling way (and it is cheaper than hiring professional actors too).
4. The benefits of using the product, clearly explained
The key to an effective explainer video is demonstrating the product's benefits without making comparisons with the products of competitors. Highlight the features of your own product and tell the user clearly how they can benefit the most from it; it's what your customers really need to make informed choices.
5. A call to action
Your customers watch a high number of videos every day for entertainment. To get them to respond to yours, your explainer video must end with a straightforward, easy-to-grasp call to action. Direct them to the next step at the end of the video: not to directly buy, but to sign up for a trial, subscribe for regular updates, or call the company to learn how the product can be customized specifically for them.
Explainer videos can produce measurable results that will show you how useful it can be to make them a part of your video marketing campaign. If you would like to you create an explainer video, get in touch with us. Let's chat about how we can help you!