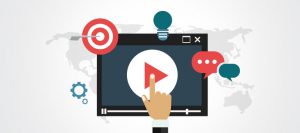 If you want to market your firm using videos, try including animated videos. These are not as common as live action videos, and don't require a location, actors or a big budget. You can use them effectively in certain contexts, such as when explaining complex production processes that take place over a long time period. You can communicate information about your firm using this visually engaging method of marketing.
We recommend using this great marketing tool, because it has several features that make it effective.
1. Animated videos can include several engaging and entertaining elements
A study showed that people engage with branded content that contains pictures to the greatest extent, (44%), content with status updates up to 40% and videos up to 37%. If you use animated videos, you will be utilizing all these forms. This is because elements such as text, visuals and audio are involved. You can cater to many different format preferences, allowing you to connect with a diverse group of people. Animated videos make use of appealing visuals that grab attention. Drawings add a human touch, and are unique to this form of video. Since visual information is processed faster than text, animated videos provide information in a manner that is more convenient to the target group. You can also use the right amount of text to complement the image and provide a context. People can view these videos on their phones in addition to other devices as they take up less memory than live action videos.
You can show the importance of your products by using a story format (product explainer videos) in a hypothetical context that is different from reality, and thus grab attention. By using humor, movement and music, you can make this form of marketing entertaining. Traditional live video style advertisements are more commonly found than animated videos, so there are more appreciation and attention given to animated videos and its unique elements, which may help you reach more people.
2. People can relate to the characters, concepts and details depicted in these videos
Animated videos make use of relatable characters and stories. 3D animations show details of a given context that can't otherwise be shown, which also makes it easy for people to relate to the video. They evoke emotions and engage people more. They can portray intangible concepts that are difficult to show using live action videos, such as the intricate process of the working of an app on a phone. This is possible with the use of well-made visuals.
3. Animated videos work for certain firms
For some companies, making live action videos is less practical than animated videos. Live action videos require a big budget, actors, a good location, the perfect weather etc. You can use animated videos to control these external factors. Use of colors, typefaces, music, characters and movements is effective for this. In addition, they have a shorter production time.
Showing your actual supply chain management process, or the service that you provide using live action videos may be inconvenient because the entire process may take place over a long time period. You can depict these concepts in a shorter time using animated videos.
4. Builds your brand image and increases sales
If you give people information that they want but haven't been able to access using animated videos, you may be able to establish trust. They will look at you as an expert in the field. This, along with other core values of your firm helps create a brand identity and tell people your story. You can include designs that have been previously used on your website, presentations and social media in these videos to increase brand awareness. Your logo, tagline and values can also be used, which helps in reinforcing the brand identity and brand awareness. It may be useful to use a mascot or character repeatedly in a given context, to represent your company. This helps get people's attention, and make connections between your videos. An example of this is the Vodafone characters 'Zoozoos' used in their video series. Brand recall is when people want to buy your products repeatedly, and think of your brand when the requirement for the product/service comes up. Your videos with mascots may help form a link between your brand and your products (their application and features), and increase brand recall. You may succeed in making people want to come back to your brand. This could lead to an increase in your sales. According to Animoto, 64% people make purchases after watching branded videos and getting to know about the products.
5. These videos communicate information in a simple, targeted way
By using animated videos with a well-made script and design, you can communicate quality content that is hard to find. You can show complex workings of products and production processes in a simple, entertaining and delightfully short manner. It may be useful to highlight the important features to show the benefits of your products over those of your competitor's. You can give this information in a concise manner, which makes it more likely for people to pay attention. You can use less text and more visually attractive features, to make it easier for people to understand the concept being given. You can give a visual representation of any intangible or tangible concept and idea, which is not always possible when you use live action movies. Try giving information that is not only related to the marketing of your firm but also related to what people are looking for. This may please your target group.
6. Videos (especially animated videos) increase the visibility of your website and can get you more leads
It is likely that people will spend more time on your website when you use videos; there has been an increase in time spent from 8 seconds to 2 minutes observed when a video is uploaded on a website (as compared to when there isn't). You can upload and promote videos on other platforms such as Twitter, YouTube and Facebook along with the appropriate keywords. A link to your website can be included on these platforms. This helps bring organic traffic to your website. Almost 50% more customers seek information related to your product/ service after seeing a video. You can use animated videos at events or during pre-sales meetings to tell other firms about the work that you do. You can also use these videos as a part of blogs on the website, to increase traffic. Emails that include videos are more likely to be opened (if it is mentioned in the subject line).
It may be effective (in certain contexts) for you to place videos such as product explainer videos on the appropriate landing pages of your website, and not necessarily on the home page. Try to use the video on the top of the page, because people may not scroll down, and a video is more appealing than textual information. The video should be placed such that it is visible and easy to watch. There should be a clear, contextually appropriate call to action given at the end of the video.
If you are not using animated videos, you are missing out on the unique features it provides. Animated videos use various elements to show details, help visualize intangible concepts and depict characters in order to make the story of your firm story more relatable. Giving valuable information to people through videos helps people establish trust with your firm. You can use your firm's designs in videos to increase brand awareness. You can also use them to create a link between your brand and your products. They convey complex workings and concepts in a simple and visually attractive manner. People stay on websites longer when videos are present, which may improve the visibility of your website. They can also be included on other platforms such as Facebook, YouTube, Twitter, emails, and presentations for events.
If you're interested in using animated videos to enhance your branding and marketing strategies, please contact us:
https://www.chittlesoft.com/contactus.html