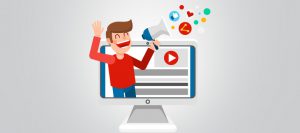 When you promote an event you are hosting or participating in, you are indirectly promoting your brand. You can meet various objectives – increasing brand awareness and recall, interacting with current clients, finding new leads, increasing revenue or partnering with other businesses – using your event marketing. At a time when digital marketing growing, an event, which involves more human interaction, can be effective to get attention and meet your objectives efficiently. Your event promotion should be planned in alignment with your short and/or long term marketing and branding objectives.
Read on to learn how to use your event effectively as an opportunity to meet your specific marketing and branding objectives.
1. Ensure people understand your brand before your event
Since you can achieve many objectives through an event, it can be easy to confuse people with your communication as you try to make the most of the opportunity. It may help to focus on the few specific goals that are of top priority. That way, you can showcase specific (relevant) aspects of your work and brand before the event in a way that doesn't confuse your target audience. By communicating a clear reason behind your organizing or participating in the event, you can promote your brand's vision and mission while you share the event details. This will help you appeal to the right audience.
Based on these objectives, try to build a brand presence on digital platforms. A separate event page can be made on Facebook or LinkedIn to get more leads. Instagram and snapchat stories can show behind-the-scenes preparations for the event. This is a method to tell people on these platforms about your firm and the work that you do. Paid ads on these platforms can get you more reach, and get you valuable demographic information about potential customers. You can also join a conversation, use an event hashtag, and engage with your social media audience. There can be polls in which you ask questions related to the event. This can also be used as feedback for you to modify your event (and work in general), to suit the target group. By using display ads, you can interact with target groups you haven't before.
The use of these elements and specific visuals on various pages and social media websites (which have been used on your website before), help in increasing brand awareness and even sales. You can also create another landing page specifically for the event, which can increase traffic, and get you people who don't know about your work. When users visit your digital platforms, they can come across various elements that are associated with your brand. Visuals and elements such as your logo, colors, fonts, themes and characters can be used on various digital platforms such as event pages. People can be sent emails about the event, which include details about the event, and also contain the same visual branding. Event apps can also be effective.
The use of geotargeting or local pay per click ads (an Adwords feature) can be effective in getting an audience from a specific local area. This is especially useful in the context of an event, when the local area can be chosen to be the same as the one where the event is going to take place. It helps reach people who are interested in your event, and those who are present in the area. This tells people in your proximity about your firm and work.
Banners for the event can be used in the office of the other hosts of the event as well in your sponsors' office. The visual branding can help increase brand awareness. The written content also helps people know about your product or service. Flyers can be used with QR codes, to get more RSVPs for your event. Invitations can be made with designs that reflect your brand.
You can participate in other smaller events before your main event, where you can tell people about your upcoming big event. This may involve telling people about your products and services, and can help increase brand awareness. If you are setting up a booth at the event , it could have visuals and information related to your products which can helps in increasing brand awareness and recall.
2. During your event, focus on brand building through interaction
87% of consumers say that events are more effective than commercials. That's why you should have a strategy to use the opportunity well. After interacting with people through digital and print media, you have the opportunity for authentic in-person interaction with potential and current customers, as well as other businesses, that you do not get very often. You can get to know potential business partners during the event. This helps in networking and marketing your brand.
If the event has many hosts, there will be a large audience (that you haven't interacted with before) in attendance, and they may or may not be looking for what you are marketing. By keeping in mind your key objectives for participating in the event, you can communicate specific aspects of your culture, and indirectly communicate who your target audience is. For example, if sustainability is important to your brand, you can showcase samples of your recycled products or use environment friendly lighting, and other values. This will attract people who care about sustainability and are likely to become customers at some point. By giving demonstrations of how your products work and allowing people to use them, you can convey information clearly. This is an engaging method to show people how their problems can be solved by using your product.
Visuals and other branding elements that are used on your digital platforms can be used in your booth at the event. When people attend your event, they will see signage and strategically placed banners as well as posters that are effective for branding. This will look familiar to them at this point. They can also be given free merchandise – keychains, shirts, pens, bags, etc.- with your brand design/logo. Since these objects can be used in everyday life, they subtly and efficiently market your brand consistently. When people associate these designs your brand, it helps increase brand awareness. Since this is a place to give information that people value, not all of which is related to the selling of your product, it is a subtle form of marketing and can be effective.
Snapchat and Facebook can be used to give live footage. On Twitter, hashtags can be used strategically during the event to connect with people who are talking about similar things at the same time. Live tweeting can also be done. If it is a big event, it may be included in the news. This significantly increases the reach of your brand. It can increase brand awareness among groups of people who did not know about your firm and your work.
3. Follow up with potential long-term connections after the event
The event can be a platform for you to engage with leads or potential business partners in the long run. The contact details that you get from your event can help you keep in touch with potential customers, and follow up on the new leads you have obtained. You can send them emails with content that you know is relevant to them. The visuals that appeal to them can be used in posts on social media.
You can share posts about the event on social media. By engaging with people online, you can also get data on their preferences. People who were impressed by your event may tell other people about the same; this word-of-mouth marketing can be very effective. You can also offer discounts that are applicable for a short time after the event, to encourage sales.
It helps to prepare for an event with a clear objective in mind, well in advance. This will also help you know who your target audience is, and communicate with the right audience. Before the event, a social media presence can help you reach a wider audience, tell people about your brand and the work that you do, which can get you new leads. It can also give you valuable data on your target group. At the event, you can give information that the people want and use subtle marketing methods. Your design and culture can also be shown at these events. Print and digital media are can be used to reach a wider audience during the event. Events give you an opportunity to obtain leads and convert them to customers in the future. Visual branding used before, during and after events can help increase brand awareness and recall.
As mentioned, an app is a great way to promote your event. For a free consultation to discuss an app idea you have, get in touch with us here: https://www.chittlesoft.com/contactus.html