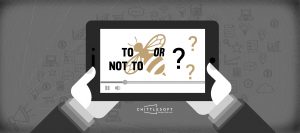 Big business or small, everyone needs a strong marketing campaign to boost branding and eventual sales. While written content has made its mark and retains its importance in the content marketing world, videos are gaining significance as a critical component of a results-oriented marketing campaign. Videos are engaging, videos are personal, and videos are known to prompt greater customer conversions than campaigns without video marketing.
A recent report by Nielsen reveals that adults in the US consume about 6 hours of video content daily. This could be indicative of the amount of time the global audience also spends on consuming video content and reveals that video has the power to be compelling in a way that written content does not, because users now seem to have a lower attention span for reading as opposed to watching videos.
In 2018, more companies are using video marketing to reach their potential customer through multiple channels: Instagram, LinkedIn, Facebook, and their own websites. But how does a business decide whether it really needs video in its campaign?
If your answer to any of the following questions is a yes, then your marketing campaign definitely needs a dash of video content.
Do you want to increase customer engagement with your product?
Videos can educate as well as entertain. For instance, an "About Us can tell your customer who you are, while providing entertainment in the form of animation or quirky narration. A short video narrating your values, goals, and mission as a business also helps your customer connect with your business on a more personal level. Combining education and entertainment will leave you with customers who stick and are more likely to retain information about your brand.
Do you want to rank higher on search engines?
Google is always tweaking its search algorithm in an effort to provide quality content to its users. Now, Google ranks pages with video content higher than it does pages without video content. This means if you upload say a promotional or a product review video on YouTube (owned by Google), your content has a greater chance of showing up in Google's search results. The outcome: higher customer engagement and higher website traffic.
Do you want to engage with mobile device users?
A CISCO study shows that by 2020, video will account for 75% of mobile data traffic. Recent research also states that mobile phone usage has increased in comparison to desktop usage. On mobile, users seem to have a longer attention span. When distributed through social media—platforms that mobile users spend most of their time on—marketing videos can target a much larger audience.
Do you want to save time on responding to customer queries?
Customers call customer care with a lot of basic queries. For example, a customer may call to understand how to make a certain feature work or stop working. Now, if you have an explainer video up that answers such frequently asked questions, it can save your business valuable time and resources. If it helps, Wyzowl's study shows that 95% of people watch an explainer video to learn about a product or service.
Do you want to increase conversions?
The goal of content marketing is to generate leads that eventually convert into customers who pay for the product or service in question. A high-quality, well-made, succinct video is known to be able to convince customers to purchase a product. Video marketing is more conversion-oriented than traditional content marketing methods, which means if conversions are the goal of your marketing campaign, then videos ought to be a part of it.
Identifying a target demographic and creating engaging video content are critical to the success of a marketing campaign. So, does your campaign really need video content? Contact us here so we can chat about your needs, and we'll help you understand how videos can be used for your content marketing requirements.