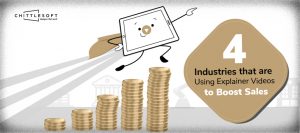 Businesses world over are now making outstanding explainer videos to market their product, and here's why:
An increasing number of users are spending less time reading and more time watching content.
Research shows that the use of explainer videos can boost conversion rates up to 75%.
Google ranks pages with video content higher than pages without.
Explainer videos can be shared on multiple platforms apart from company websites, like Facebook, Twitter, and Instagram. This instantly increases reach and consequently the chances of conversion.
So which industries are boosting revenue by using business explainer videos? Here's a list, with examples.
1. Finance
Finance is a rather difficult-to-understand subject for most people. But, for example, as people become more aware of the value of investing money, they want to know—without having to interact with too many people—how their money will be used, the returns it can generate, and the risks that the investing process entails. Enter the explainer video that answers questions customers are too scared to ask. It encourages them to trust the business, and use it to manage their finances.
This explainer video by Pegasus Financial Consultancy presents the timeline of a young couple up to their retirement, asking all the right questions at each stage of their lives and helping them make better financial decisions.
2. Manufacturing
In the manufacturing industry, explainer videos are useful in both B2B and B2C models. By giving users clear visuals of behind-the-scenes processes, they can simplify seemingly complicated processes and establish trust in customers.
MTC Electronics' explainer video demonstrates how their manufacturing facilities can be used by companies in the medical industry and aerospace industry, for example, to design and manufacture electrical components for their devices.
3. Health
Healthcare entails complex decision-making for both oneself and for one's family. Given the size of the industry, explainer videos can aid that process significantly on a massive scale. Alternatively, explainer videos can also help doctors choose products that simplify their work.
QardioMD makes digital devices that help doctors monitor their patients' cardiovascular health remotely. Directed at doctors, this explainer video tells them how to use the device and why it is beneficial for them to invest in their product.
4. Technology
With the heavy dependence on technology products, explainer videos can boost sales tremendously by telling users exactly how a product works. Short explainer videos can also work as sales pitches to communicate with individual customers or businesses.
Accenture uses an explainer video to tell users about their use of blockchain to perform almost immediate payment settlements and a digitized ledger to view payment transactions.
For companies that aren't doing this yet, explainer videos can boost sales significantly. High-quality, professionally shot live or animated videos can add tremendous value to the content marketing strategy of a company.
We can help you create a meaningful explainer video for your business. Give us a call to chat about the best way you can incorporate video into your content marketing strategy.