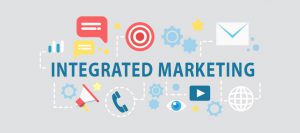 Your brand is the way people perceive you. It rests on how you present yourself. When dealing with various media – offline and online – it is important to keep that presentation consistent. This means that your brand identity needs to be established correctly across platforms. That's why you need to proceed with a clear vision in mind when introducing digital marketing to your marketing strategy. When done right, it is a great way to tell your brand story to different target groups, irrespective of the medium that they use to interact with your company. This also helps increase your brand awareness and recall, when visuals that represent your brand and communication are used consistently on various platforms. Here are some ways you can use digital to serve your overall marketing strategy better:
1. Use digital platforms to collect useful data on your target group
After you have recognized your target group, you can interact with them on social media and other digital platforms. You can take surveys, and collect data on their opinions and preferences regarding your products. User experience research is an effective way to do this. It will also tell you which digital platforms they prefer. You can get data on which medium they like using, which can guide you on how to connect and integrate your other marketing mediums. You will be able to collect useful information in a timely manner helping you allocate your resources efficiently.
With this knowledge, you can also use digital to continue the customer's interaction with your brand. Their engagement on a traditional platform can be moved to a digital one, sustaining their interest. This can significantly boost customer retention.
2. Modify your campaign as needed with quick feedback
If you are planning a campaign, you can engage in conversations with people about this on social media. This can help you collect information about how you can align the campaign to suit people's needs. By understanding from them if they want brochures in print or digital form (on social media or your website), you can divide the target group and cater to them separately. Print media has benefits even at a time that digital media is increasingly being used. This includes the physical interaction involved when holding a brochure. You can send emails and use telemarketing to convey information about when the brochures will reach your subscribers. This can also contain an introduction on what the brochure is about, such as new products/services added.
3. Use QR codes to increase customer conversion rates
QR codes can link your print marketing materials with digital platforms. For example, it can be used on a physical flyer or brochure that you have handed out about a product, service or offer. A QR code can then direct people to a digital platform (such as a website) where people can purchase the product being marketed or act on an offer. This can increase customer conversion rates.
These links can also give valuable information about the customer's tastes and preferences. Pepsi has been using these QR codes on their products to direct people to a website from where they can download games, ringtones and wallpapers. But in addition to this, the company also gets valuable data on what a customer is consuming, so that in their upcoming campaigns, they can personalize marketing material, such as including the name of the individual they are addressing. They can cater to individual preferences, increasing the chances of people consuming their products. They can use attractive offers or provide gifts in the future, with suitable designs for the particular individual. There can also be recommendations given to people to buy products related to those bought in the past.
Facebook has been using QR codes on messenger for one person to message the other by scanning unique codes. This makes it especially useful for people to contact customer care to resolve issues faced while purchasing a product, for example.
Companies can also hand out print marketing materials such as coupons during festivals, for birthdays or other special occasions. For example, a company can send a birthday card, or a festive greeting card, with a QR code to download/order a free product on the occasion. These coupons can also use the right visual branding, which people will recognise from other platforms such as the website, social media, print ads, and so on. This helps increase brand awareness.
In the case of some industries such as interior design, print media is especially useful. For example the color and texture of walls can be shown on books. Curtain materials can be accurately shown by inserting small samples of the curtains in books. Along with these samples, QR codes can be provided, which can take people to that page on the website where they can order the curtain of their preference.
4. Let interactions on digital inform your office design
Your office design should be consistent with the design you use on your digital platforms to represent your brand. In addition to keeping branding uniform, you can also observe your online community's preferences and adjust your office design accordingly. Since your current and potential clients may visit your office space, it can act as a marketing medium for your company. Printed material for marketing can be used on soft boards, doors, reception areas, and standees. This can tell those customers who you have only interacted with on digital platforms that the posts you upload on social media about your products, designs and values are also reflected in your office design. This also tells new employees what your company is about, so that they can convey accurate information on the brand/company to potential customers online.
5. Use online customer interactions as a gateway to in-person interactions at events
You can tell potential and current customers about your event on social media. Appealing visuals and a behind the scenes look at organizing the event can be shared on digital platforms, sparking interest and encouraging more people to attend. At the event, they can interact physically with your products. For example, they can test drive the car you are selling. These interactions provide a different value than those through videos, images and information on digital platforms.
Conversely, those people who did not know about your company, may come across your stall at an event, and can be given information about the same. By collecting their email address, you can then add them to your subscribers and send them information on digital platforms. You can also interact with them on social media after the event, and provide them with more information about your company. You can also collect information about them on social media. By handing them flyers or brochures that contain QR codes, they can access your website and contact you on digital platforms. You can also ask them if they prefer print marketing, and can add them to your magazine subscribers list. Guest speakers can act as influencers, and direct the people attending the event to interact with your company.
6. Tell people about philanthropic initiatives and on ground CSR activities through digital platforms
Pepsi decided to not make commercials for the super bowl, and instead start a philanthropic initiative called the Pepsi Refresh Project. This involved working towards supporting individuals, businesses and organizations by providing funds. They marketed this initiative on digital platforms, such as their website and social media platform. This helped them convey information, including values, about their company/ brand.
7. Announce and explain bigger, integrated campaigns on your digital platforms
The share a coke campaign involved people's names written on the bottles. This campaign was marketed on various platforms such as in the theatre, radio, print (including billboards), TV, digital and social media. People looked for their names when they bought bottles at the store. The products also had stickers containing QR codes, which directed people to digital platforms – where they could win free sports or amusement tickets, or even a free coke. People could attach the stickers provided to clothes, bags, phones and other products. It also caused people sharing a coke to upload pictures on social media, which helped with increasing brand awareness.
Your digital marketing efforts can complement and amplify your overall marketing strategy. By collecting data about your target group, you can link preferred mediums with digital platforms and market your company effectively. Social media and digital platforms are effective in telling people about your campaigns, and for collecting data that you can use to create an effective campaign. People can be directed to a digital platform to claim an offer that is given on a flyer using QR codes. These codes link the print media to a digital platform and can help your company get valuable information on consumer tastes and preferences. You can then personalize purchases in the future. Coupons with codes can direct people to purchase those products (online) that have been mentioned on them. Your current/potential customers and employees may trust you more when your office space has the same designs and marketing content as those on your digital platforms. Events, when integrated with digital platforms can bring offline customers online, and vice versa. Philanthropic initiatives can be communicated, and thus values of brands conveyed by the activities and progress on digital platforms. Digital marketing helps implement campaigns and make them effective. These campaigns themselves can be carried out on various marketing media.
Unsure where to begin? Contact us for a free consultation on digital marketing. We'd be happy to help!