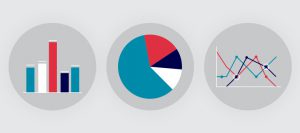 A campaign is a stepwise plan towards your marketing goals. For this, the specific details of your goals should be clear. This can range from increasing your followers or interacting more with your online community to brand awareness and getting more recommendations (or even return on investments). Once you establish a strong online presence, you can use it to move towards the goals you have set. This involves putting up the right content and initiating the correct interactions to attract your target group.
Here are some numbers that will go up with effective digital campaigns:
1. Your following
You can grow your online community if you know what your target group is looking for. With the help of a digital campaign, you can interact and communicate with your target group. This will give you more insight into what people are looking for. By knowing their problem, you can market your product as a way to solve their problem. You can also give them the product information they are looking for. Tesla, for example, gives information on the process of making of the product. Since it involves products of superior quality and technology, they have figured out that people are interested in these specific aspects. They also have live streams of their events that a lot of people appreciate. This is a subtle and effective way of product and brand promotion.
2. Interaction with your followers
You can get a lot of data on the market or specific target group relevant to you. The device that they use on digital media (mobile, computer etc.) can be known, so you can focus on that channel of communication. The form of information that is well-received (text, video, audio) can be found. By focusing on the right aspects, you can increase and improve interactions with followers.
You can also get a lot of feedback on your digital presence. You can also improve your visibility using appropriate keywords, how much to spend on advertising online, which platform to focus on – social media, website etc. You can also get data on how many people viewed, clicked and shared your posts. This tells you which posts are doing well.
3. Your company's communication frequency and effectiveness
Since digital campaigns are on platforms that are easily accessible, you can get data on the work done by your team. This can include the content posted, the timing, frequency, and how many people were reached. The boosting of posts can also be viewed, along with the money spent on promoting posts. You can get data on how customers were acquired, the revenue that you got from them and their satisfaction. By making changes, you can focus on improving results for each metric being tracked.
4. Reach and connections made with different demographic groups
By reaching new sections of the population, you can increase brand awareness and recall, and even sales. Gucci started a campaign to target a younger audience. This involved uploading an image with a sentence beginning "That feeling when" with a picture of a Gucci product. #TFWGucci was the hashtag used. This saw a lot of people wanting to uploading their picture and creating a conversation about their products, leading to increased brand awareness. It was also an effective way to connect with the target group.
5. Conversion rate
This is likely to increase with the data you get from your website. You can keep a track of people who visited your website. By looking at the number of views per post, you'll know what's doing well. Other data such as unique page views and visitors, bounce rate and rate of return can also be used. Using google analytics, you can see where people are coming from, and then focus on that channel. Putting up the right content (that people are looking for) can reduce the cost of acquisition per customer. Retargeting people who have visited your website without contacting you can get you a higher lead to customer conversion rate.
6. Brand awareness
Going digital gives you a way to interact with a large number of people easily. You can reach and be recommended to people who don't about your brand. By using a standard, recognisable design on various platforms, you can increase your brand awareness. With consistent interaction over time, people can be made more familiar with your firm. You can also keep in touch with customers even after providing them your service, and increase the customer retention rate. Try to attract potential customers with engaging visuals, videos, infographics and blogs. By directing your ads towards a specific group of people, you can interact with the target group that you want. Dacia, an automobile company, emphasized on the high value to price ratio that they offer on Facebook, which led to a rise in ad recall and improved brand image. Digital campaigns can tell people about the work you do. LinkedIn has company pages through which you can highlight individual products/services. You can use email campaigns with visuals that represent your brand. This can include monitoring the emails to know which ones have been opened and clicked.
7. Reviews and Recommendations
You can use social media to give your target group the information that they want. This is effective because you are not just promoting your products. You can interact with people on social media and establish trust with them. Storytelling can be done effectively, that helps people relate to your firm. This can also make them think of you as an expert in the field.
Social media is especially effective because it is a platform with a large number of people interacting with each other. So, you can use this to the advantage of your firm. You can interact with your target group by asking relevant influencers to write a guest blog for you, or you can make a video on them. Online communities can be created so that people can recommend your firm to others. In the case of Airbnb, people shared pictures of their rooms, and this became a trend. This is an compelling way of marketing and recommending.
Another company called TVibes, provided a platform for data storage on phones. People could essentially make their own TV, by storing desired combinations of shows by using their app. They used Facebook for effective marketing. People could use a trial version of the app on Facebook, and see what their friends on Facebook had stored. There was higher engagement, more loyalty and greater conversion from Facebook installs. A nonprofit organization, Be The Match, did a successful digital campaign where they focused on the person donating instead of the patient. It encouraged people of an age group to donate bone marrow to save lives. By making people see their ability to help instead of guilting them, and using a strong social media presence, they found that more people wanted to be associated with their company.
By giving people the information they are looking for – about you and your product – you can tell more people about your brand. You can get feedback on the posts that are doing well, and how people are reaching you, to boost interaction. By keeping a track of the digital campaign implementation and results obtained, there can be an increase in output metrics such as customer acquisition and revenue obtained. Through your digital presence, you can expand to a different demographic of the population and benefit from a higher conversion rate. You can also improve your brand image, increase customer retention and tell people about your work effectively with a digital presence. Overall, you will get more people talking about your brand on social media, helping you get more recommendations. This can prove to be extremely effective for your brand, especially in the long run.
If you're unsure of where to begin your digital marketing efforts, or would like to see your numbers go up, get in touch with us for a free consultation.