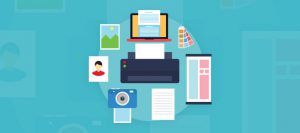 If you're looking to make your marketing strategy more effective, the solution might just be a classic – print marketing. An optimal combination of digital and print media could help you meet your marketing objectives faster and more efficiently. Even though there has been an increase in digital marketing recently, you can get benefits from print media, by using it to complement digital media. If you direct leads from print marketing to digital platforms, they can be converted to clients faster. Since print marketing is now being used to a lesser extent than it was, it has the advantage of catching more attention in certain contexts.
1. Print media is effective for things that require immediate action.
When promoting events
Try using physical invites for your events. At a time when digital invites through email and Facebook are common, you can stand out by sending a physical invite for your event. Even the act of opening the physical envelope and holding the invite is an engaging process that people will appreciate, and this may increase their chances of attending your event. You can use interesting physical design elements and textures in the invite. There is an added advantage in personalizing the content of the invite to suit a person, or a group of people. The print media doesn't have to be used alone; it can be used with digital media. If you use a QR code or NFC technology, people can be directed to your website from your physical invite, where they can RSVP for the event. By using a physical invite of a size that suits your requirement, and making it aesthetically pleasing (according to the context) with appropriate designs, colors and elements, you can grab more attention.
For special offers and seasonal sales
You can make use of the effectiveness of print media in communicating timely discounts and offers for holiday and festive seasons. Coupons and discounts that contain unique numbers can be given (to customers) in the form of print media, for you to obtain valuable information on consumption preferences. When you have this valuable information, you can create personalized sales brochures, leaflets etc. Try including the names of people in your print communication, and personalizing it. This may increase the chances of people making purchases. A useful URL can be included on the brochure (or other print media). This can direct people to that page of your website where more information on that particular product can be found. People can then purchase the product with a few clicks.
2. You can use print media to convey important information in an aesthetically appealing form
You can say more with less material and content using creative printing techniques made by creative design agencies. Three dimensional indenture, wood sculpture, handmade prints, and lino cutting are some of the effective techniques that can be used to get people's attention. With golden embossing, applying colors on lamination material, and gloss filled lamination, you can highlight important parts of the content and communicate information effectively. The texture of the material along with the design used in the case of print media will help you get people's attention. For example, recycled and used paper is not commonly found, and can make a greater impact. These techniques are unique and can be found in the context of physical print. It can provide an experience that is different from digital media marketing.
3. It has great reach and credibility
A survey found that these six bestselling magazines have a greater reach among 18 and 49-year-olds than shows on television. Another study showed that more than 4 out of 5 people read a newspaper every month in Australia. In India too, newspapers have a great reach, even in rural and remote areas. In the context of India, people don't have access to news online. A large percentage of the population consumes this effective form of print media since it is inexpensive. Almost half of the total children between ages 12 and 17 (in India) read a newspaper or magazine. The value of the Indian newspaper industry has increased by about 60% in the past six years, and readership has grown by 110 million over the last 3 years.
Newspapers communicate events relevant to a given region, which makes them more customized. This is an effective platform for you to advertise your firm, because your message will be heard by the right local audience. In contrast, best selling magazines that are sold worldwide can help a given piece of information reach various parts of the world at the same time. These magazines are well-established and experts in their respective fields, and thus improve your credibility. Your product will be viewed positively if you publish an article or advertisement in one of these magazines. In the case of BMW's campaigns, it was found that print advertisements were more effective (in terms of brand recall and other aspects) than online advertisements.
4. It offers a different experience from digital marketing
From the customer's perspective, print media marketing provides a different experience from digital marketing. People can view brochures that are put up in various offices. Newspapers have a small and limited number of pages, so people read the contents more carefully, as compared to news online, that has a lot of links and opportunities to click away. Receiving physical mail is tangible, and requires people to unfold brochures, open packages, and turn pages. This can make a stronger impact on your customers.
Print marketing does not include only paper in the form of flyers, but various other forms and materials. You can use business cards, brochures, keychains, shirts, cups, bottles, pens, and other forms of merchandise. Since these objects are practical and can be used daily, they are subtle and effective ways to market your firm and improve brand recall.
Advertisements can be inserted in print media in a limited number of ways. This makes the ads less surprising for the reader. Contrastingly, in the case of a digital medium, advertisements can be embedded onto a page in many different ways and forms – such as pop-ups, videos, audios, pictures. A great amount of spam and viruses also exist and is associated with digital media. The bad timing of digital advertisements has caused unpleasant experiences and has led to the rise of Ad block as well as other such content filters. Without pop-ups and the fear of viruses in the case of print media, the viewer doesn't feel spammed and is less likely to experience annoyance upon seeing an advertisement in print.
It has been found that people read slower in the case of physical media, which can increase your ad recall, brand awareness and sales. A study of 150 cases across various sectors showed that when print was added to the marketing materials used, brand awareness went up the most. In another study involving 1,400 ad campaigns, it was found that the return on an advertisement for print magazines was higher than that for other mediums such as digital display, television, mobile, and video.
The size of the advertisement, the day of the week on which it is shown as well as the frequency of advertising are factors that you can control. Thus, you can allocate your budget, based on the content to be communicated and the audience involved.
5. It can be used to direct traffic to various places
You can effectively market your firm by using print media and digital media to complement each other. With the use of a QR code and NFC technology, people can be directed from print media to get more information on your website or to contact you. Potential customers can also download free samples of infographics, e-books or any other forms of information. You can link print media to various social media platforms. A social media marketing campaign can follow print media marketing in order to increase the participation of people.
By making use of the finite nature of a print medium, you may make people want to engage with your content to a greater extent. You can also improve your reach and credibility with print marketing. Reputed regional newspapers can be used for local advertisements, and magazines can advertise organizations with a global presence. If you use print media to complement digital media, you can direct people to your website or social media from the printed marketing material. This can lead to greater and easier interaction of people with your firm.
To understand how you can use print marketing to your advantage and how an integrated marketing strategy can get you better results, contact us at: https://www.chittlesoft.com/contactus.html