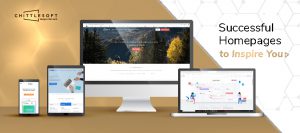 Research shows that the average attention span of a human being is between 6 and 8 seconds. That's a very short time for the homepage of a website to make an impact on a user who has thousands of other options to explore. In this span, a homepage must – above the fold, without scrolling –
In addition, good homepage design must be responsive on all devices: desktop, tablet, and mobile.
We bring you a list of websites that have nailed their homepage design by adopting all the aforementioned requirements.
Homepage Designs That Will Inspire You
Dropbox Business
Dropbox Business offers small and large organizations online storage solutions, allowing them a central location to share files.  
Why it is a successful homepage
Mint
Mint helps users track their financial information by offering budget tracking, investment tracking, and bill tracking and payment.
Why it is a successful homepage
Asana
Asana is a project management software for organizations to work together and meet deadlines seamlessly, all in one place.
Why it is a successful homepage
SigFig
SigFig is an online investment advisor to help you plan how you can achieve various milestones in your life.
Why it is a successful homepage
A homepage designed well can easily lead to conversions and help you meet your business goals. If you would like to learn more about how you can create an effective homepage design and improve your website, get in touch with us for a free consultation today!