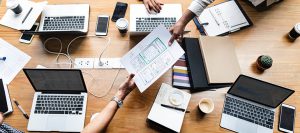 User interface (UI) involves creating elements that will be used in your digital product in a way that makes it easier for people to use that digital product. It impacts visual aspects, as well as the reaction and interaction when a user gives an input. It also helps people with navigation, so they can get the information they want, and use the product to their maximum benefit. It involves the strategic use of graphic design, color, layout, logo, buttons, icons, and interface structure among others elements.
User experience (UX), on the other hand, involves conducting research and tests on the product with the aim of improving customer satisfaction. The focus is on how the product feels when someone is using it. It looks at things from the user's perspective (mindset, attitude, behavior). For example, it will look at the perceived time of downloading a document from your website, as opposed to the actual time taken.
To sum up, UI focuses on people's micro-interaction (layout, visuals, and buttons) with the product, while UX looks at the macro-interaction (the users' overall experience and perception).
User interface design involves the use of attractive visuals and graphics. The interaction between the user and your product is enhanced by using this tool effectively. It also involves providing a strong structure and the right visuals, so that people can use your product without first having to read a manual. It guides and directs people while they are using the product. UI can help your company in many ways, since it helps people use your product in a way that meets their needs. Take a look at some ways you can use UI design to your benefit:
1. Develop a design that is not only appealing but also functional
Using UI, the design of your product can be made in keeping with the aim and preferences of the target group it has been made for. Images, animations and videos can be used to complement the strategically chosen text. Visuals used can be attractive but well-placed so that they are not distracting. Simple colors and designs work well. For example, WhatsApp (which has gained a large user base) has simple designs to convey its function. Too many colors confuse the user, about what part of the page should be looked at first. You can use color, light, contrast and texture to draw attention to the right elements such as navigation buttons. You can also try to convey the brand image using design. This tool can even be used to make sure that the content is legible and accessible on across devices.
2. Choose elements that help people understand how the product works
People should know what your product's main function is. UI involves strategically making and using elements that are to be used in the product. These should serve their unique purpose, such as to get inputs, navigate, give information, etc. Too many elements cause confusion. You can include features to help with mistakes commonly made while using the app. Providing them an easy option to go back to the previous page or step, for example, can be very useful. It makes people feel like they are in control, and reduces frustration. Appropriate elements can make the visuals, flow and overall experience better for the user.
Tip: try using the same icons to represent a particular aspect on all platforms, so that people don't have to relearn how to interact with your digital product.
Elements of responsive design can be used such as font that changes according to the size of the screen. The scrolling element should suit the context. Unique and recognizable features such as icons, mascots, characters can be used when appropriate. High-quality graphics elements must be used. These work well when they mirror those aspects that are found in the real world. An example of this is the Adobe cursor hand which closes when you pick up a picture and drag it. The aim is to present information quickly. You can choose the amount of content that is required, so that the ads are not slow and page loading speed is quick. Aim to strike a balance between retaining customers and giving information. You can set up the navigation to be intuitive, so people get to the information they want quickly. You can customize the grouping of tabs and labels, and the way the page is arranged, in a way that suits your customer's preferences.
3. Establish two-way communication between your customers and your firm
UI design will make it easier to for you to capture feedback from a user, so that the product can be improved. You can provide assistance when a person is stuck at a certain stage. A customer can experience frustration when they get stuck abruptly. By establishing two-way communication such as with the use of a live chat, you can help them proceed. UI design can help you move past such interruptions in a way that makes the whole experience smooth. It can also help you convey important information, such as when certain aspects of your product have been updated, and how they can now be used.
4. Make navigation easy for users
With good UI design, people can get to the information that they want within a few clicks. Experimental navigation brings in more dynamic movement and changes the usual consistency, balance and order. You can make navigation easy by using the same layout throughout your website or product. Yahoo, for example, uses links that are easy to read. Tackle commonly experienced annoyances, such as broken links, to improve people's experience of your product. 57% people said that broken links were a common problem in accessing the internet. Ensure no broken links are present to avoid this frustration. World Wildlife Fund's app on the iPad has made good use of user interface. It works on simple gesture-based interaction. For example, to reveal information about the world's wildlife, a user can use their finger to break the bamboo on the screen, and move icebergs. People feel like they have good control while navigating through this application, and can decide what information they want to access. You could try Parallax scrolling as well, which gives the content layers, so that the background image can be viewed for longer. It makes the content more three dimensional and makes your website stand out.
5. Build brand awareness with visuals
The design elements (graphics, icons, colors, images) that you use can be consistent on various digital platforms. This helps people associate these with your brand. Similarly, information about products and services can also be associated with the brand. You can tell your brand story and give explanations of how things at your firm work through various aspects – connected together by the use of UI. This may make people come back to your website in the future, when they require the products you sell. Thus it helps increase brand awareness and recall. With a comfortable experience, a bond can be formed between the brand and customers. It can facilitate the fast and efficient promotion of products.
6. Design your product to suit various platforms
You can use UI to make your website, software or other digital product work well on various devices and platforms. The use of the smartphone for internet access is increasing. 65% of time spent on digital media has found to be on the phone. 67% of mobile users say that they are more likely to buy a product if it is mobile friendly. Desktop is also important for certain things such as e-commerce transactions. The tool of user interface helps with consistency in quality and appearance (of your product) on all platforms. You can guide a user through the product's interface using the same interactive elements on all platforms.
7. Define a target audience; UI can then help you solve their problems one at a time
Learn about your target audience in detail; their experience, level of knowledge and skills, activities they can do using your system, their purpose of using your product. Once this has been done, you can use UI to solve one unique problem at a time. This will very important, and will help you communicate the function of your product to people. This can be a simple function such as storing links (as done by Pinterest), and sharing videos (Instagram). By solving a key issue using UI design, you will attract more customers.
8. Increase sales and reduce cost by investing in UI design
UI helps with smooth navigation and can bring people to various calls to action, such as making a phone call, downloading a form or sample product. It can increase the conversion rate of leads. Since it helps increase the speed of your website, including the time taken to load a page, it helps your website rank well on search engines (since this is an aspect considered in ranking). Amazon has seen a 1 percent increase in revenue for every 100 milliseconds improvement in page loading time. This means more people will visit your website and can give you an opportunity to get more customers. According to a survey, well-designed UI could raise your website's conversion rate by up to 200%.
Since it makes your product easier for customers to use , the cost of customer support can reduce. User tests can also be conducted related to various UI aspects used, so that features can be changed at the right time – before the products are marketed. Feedback on wireframes can be taken. This gives you an opportunity to correct mistakes, avoid higher costs in the future, and increase profits.
UI helps make designs that are attractive, shows the function of your product (helping people use it) and conveys your brand image. By using well-made and well-chosen elements, you can help customers use the product as intended. You can direct people to the information they want at the time they need it or would respond best to it. The repetition of elements can help create brand awareness. Feedback on these elements and other UI components taken early on can improve your product in a short amount of time. This can help you increase sales and reduce costs.
For a consultation on how UI design can benefit your company, contact us at: https://www.chittlesoft.com/contactus.html