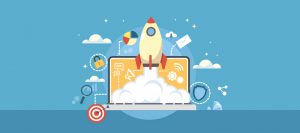 A website communicates information about your firm. It not only tells people about the products and services that you offer, but also speaks of your company culture, builds your brand image and tells your story. It can give this information to a large number of people simultaneously. It is a platform for you to interact with your potential clients, and provides a means for people to contact you. That's why your organisation needs to be effectively marketed by a well-made website.
Here are 6 ways to effectively use your website for marketing your firm
1. Use design elements creatively to increase brand awareness and promote your brand image
People who have heard of your firm by various means will use your website as an information source and contact point. A website can be used to tell visitors about the products and services you offer. The details can be given in visually appealing, concise and accurate ways. Elements such as graphics, images, videos and text can be used. The quality of the work you do and your USP can also be communicated, which establishes trust with potential customers. The website can also be used to promote your brand image. This can be done by using your logo, tagline and a particular design element a number of times on your website, in order to help people associate those elements with your firm and recognize your brand (in addition to your products/services) easily. There can be increased brand exposure when marketing collateral such as the provision of sending emails about updated products/services is added to your website.
2. Use keywords and videos strategically to increase website traffic
A website with high traffic can be an especially effective tool for marketing your business. About 60% of traffic goes to the first three sites that appear after a google search. Ways to improve the visibility of your website include using the right keywords and arranging pages of your website according to what suits the target group. Google Keyword Planner can help you search for the right keywords, which are generally the ones that are frequently searched for, but are not used on websites often. This will increase the chances of people who are looking for the products/services that you offer to know about you. You can also use this tool for pay per click keyword advertising on google and other search engines, so that relevant people can be directed to your website. Inserting a video on your website is likely to improve your visibility and make people stay on your website for longer. Google local business tools can be used for listing your website on various google based platforms such as google search, maps etc. Advertisements on other platforms can also be used such as Facebook Ads. However, be sure that these tools are used in moderation, and at the right time.
3. Make the website user-friendly and interactive to help people engage with you
When your website is user-friendly, more people want to use it for a longer time, and it becomes more effective in marketing your firm. This can be done starting with a simple domain name that is easy to remember. The design of the webpage can also be simple and attractive so that it encourages more activity from people. The font sizes and colors used should be such that it is pleasing and comfortable to look at. Good photographs on the website tend to get the attention of people, and photographs of people from your firm will give it a personal identity. There should be easy one-click navigation between pages for the users within the website, with backlinks available at all times. No pop-ups should obstruct the viewing of pages. The user's experience while on your website should be similar and positive, irrespective of which device is being used. The speed of the website should be good, so that people have a pleasant experience. An interactive website is an essential feature to market well. Features such as a live chat or a forum to discuss your products and services can help personalize the experience for a customer and answer individual questions. This helps customers build trust with the brand. It is a means to get valuable feedback from the customers. Call to actions should be used moderately and should be placed appropriately. They should be designed in a manner that people can easily communicate with you. This can be done using contact forms, blog comments and email addresses.
4. Establish trust by including a blog on the website
Blogs should give information that is relevant to people and potential clients. Using relevant and important keywords in blogs among other methods help in increasing the traffic to your website. This increases visibility of your website and brings in potential clients that have requirements related to the work that you do. Marketers with blogs receive 67% more leads than those without blogs. But they should be well-written, and have quality information that is relevant to people, as opposed to just that used for marketing your company. There should also be consistency in uploading of blogs. Blogs help make a good impression about the work that you do. If the information is niche, relevant, unique, helpful, and of good quality, it helps in establishing trust. Blogs can be shared on social media platforms and thus helps in marketing your firm to a greater number of people.
5. Personalize your website to suit a given customer
The usage of your website can be tracked, in order to incorporate changes that can make the website a sharper marketing tool. The number of visits and time spent on a certain landing page, downloads of available resources such as e-books, return rates of certain people, number of email addresses collected and videos watched can be monitored on the website. This data can be tracked, stored and interpreted in relation to demographics, preferences and behavior. This can give an indication of what (content, design or other) changes need to be made in the future, and what a returning customer is looking for. Relevant discounts and offers can be given to appropriate returning clients. This can be done for individual target customers or different customer segments. Based on the feedback, certain features can be customized and benefits highlighted. The design of the website can also be worked on. For example, it makes sense if there is focus on website use on android based smartphones – if there are more android users.
6. Give updated information on your website to build trust with your customer
Giving accurate and updated information about your firm will help highlight the integrity with which you work. This includes updated information related to your products, services and prices. Free samples of the work done in the past can be shown on the website to give a clearer picture. This will help establish trust with potential clients. Websites can be used as a tool to convey your brand's core values. Discounts and benefits that will be appreciated can also be offered to your customers.
Your website should be used as a marketing tool to tell people your story, and introduce them to the work you do. Content can be created and arranged to improve the visibility of your website. Including a blog also increases traffic and helps build trust with people. The website should be made user-friendly with the right design elements, easy navigation and interactive features. Tracking the usage of your website and incorporating changes helps with improved marketing. Giving accurate information of various aspects of your work on the website will show customers that you are trustworthy and will help in selling your products.
Is your current website marketing your business effectively? For a website analysis, or to discuss our website development services, contact us here: https://www.chittlesoft.com/contactus.html