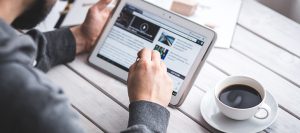 How do you currently tell your brand story? If you are not using a video format, these are the things you are missing out on:
1. Optimal Brand Awareness and Brand Recall
Brand awareness is the degree of familiarity that a customer has with a given brand, as well as its products and services. Brand recall is when a customer buys a product from a given brand, and when the need arises again, wishes to buy a product from the same brand as before. The familiarity of the customer with a brand, and desire to repeatedly buy a product from that brand can be increased through 'About Us' explainer videos. The audience can connect to your brand more easily through the use of animated characters and humor in your videos. This makes the story of the brand relatable, and helps people retain information about your product/service. Other aspects in videos such as,
corporate explainer videos
include striking color combinations and the use of appropriate audio, which establish a brand identity and increase brand awareness as well as brand recall. Shared values can be emphasized in the video, which help people establish trust with the organization and the quality of its products/services. This positive impact makes the customer remember the brand. A survey done by the Online Publishers Association showed that 
80% visitors could recall the video ad
that they had seen in the past 30 days
2. Giving a clear understanding of your Unique Selling Propositions
An 'About Us' video is a means to highlight those aspects of your product/service that you wish to. The explainer video company can help showcase your Unique Selling Proposition, thus giving an appeal to your products over your competitor's products. Your product/service can be shown, along with all its features – to a high degree of accuracy. A well-made video is a visual treat that makes understanding the content that is being communicated easy for the potential customers. It also uses other elements such as audio and text. The combination of these aspects makes the video convey your story far more effectively than when you use only one of the above mentioned aspects. A video engages the viewer, as there is a degree of relatability to the story/message given through the video. There can be a problem–solution format used in 'About Us' videos, in order to show how a customer's problem can be solved using your product/service. Non-verbal communication can also be made using videos. It sets the right tone in which the information is given, thus helping the customer retain a greater amount of information. Different videos can be used in different contexts, to suit the customer.
Through the medium of videos, the information is provided in a manner that the customers prefer – more than 1 billion unique users visit YouTube each month, spending more than 4 billion hours watching videos. The consumption of videos is also predicted to rise to 82% of all consumer internet traffic, according to Cisco. This medium helps the information reach a large section of the market. Videos can be shared across widely used free platforms such as Facebook, YouTube and WhatsApp. Videos also give a required amount of information in a short period of time, thus increasing efficiency.
3. Website traffic and Search Engine Optimization
It's true – Google loves videos. The average time that a customer spends visiting any website is only 8 seconds, but when the same page has a video, relevant visitors stay on it for up to 2 minutes. There is also a greater chance of people taking the next steps required such as subscribing to a newsletter, making a phone call, or writing an email to your business after watching a video. Since the amount of time spent on a website is a parameter considered by Google when ranking pages, this will likely improve the visibility of your website. A well-made 'About Us' video can improve visibility by 53%. If your business website is one of the top-ranked pages, it means more customers will be directed to your page, thus helping you get more leads.
4. Quicker sales
A good video will give accurate information about your business and product/service in a concise manner. A good understanding of what you do as well as your Unique Selling Propositions can be given to the customer faster, causing people to buy your product. 52% of consumers say that watching product videos makes them more confident in online purchase decisions. It helps in establishing a level of trust with a given business and moving past a certain level of resistance. This expedites the process of customers buying your product/service. This could save you a lot of valuable time that would have been spent in persuading the customer using other methods. Explainer video production companies that make videos with a large amount of personal content can help realize up to 15% increase in revenue for businesses like yours. The videos can be viewed at any point, on various platforms, and can be shared. Thus it reaches a large portion of the society without you having to spend additional time on it.
5. Quality Applications While Recruiting
'About Us' videos will help you grow your business, and hire a greater number of suitable people. It is a means for personalized communication with potential candidates – it is engaging because it offers the form and content of information that the potential employees are looking for. It thus makes a good impression of your business on people. It can showcase your company's values, such as diversity, and help you find a suitable cultural fit.
It will help you communicate information about your business to the potential candidate, with an emphasis on the aspects you desire. This may include information related to the work required to be done and the benefits that current employees enjoy at the workplace. You can then choose from those candidates who suit you, and are most engaged in taking the next steps that are required, after watching the video.
Thus, 'About Us' explainer videos will help you communicate your brand story in a manner that is time-saving, relatable and suitable for your target group. It gives information about your USPs, and other features of your product in problem-solution and other concise formats to make people confident about your products and services. This can help increase your revenue. Desired information given in the videos can also be used to get access to other resources, such as human resources. Videos are convenient, and can be shared on free platforms to reach a greater section of society. 'About Us' explainer videos can make people stay on your website longer, and help you with search engine optimization.
For 'About Us' videos that boost your business growth, contact Chittlesoft at https://www.chittlesoft.com/contactus.html