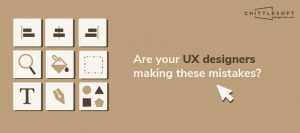 UX designers can expect to have a number of curveballs thrown their way in the near future. For one, their role is expanding, which will require them to become increasingly aligned with business objectives. In parallel, consumers are becoming more demanding and more diverse; it won't always be easy to pinpoint what will resonate with them. Add emerging technologies to the mix, and you have a smorgasbord of UX design opportunities and challenges. In short, UX designers have their work cut out for them.
This is a good time for us to remind ourselves that some of the most important UX choices a designer will make will be choosing what not to do. This will entail being discerning and knowing when to opt out as new options spring up all around. The same discernment will need to come into play when you review design choices your UX designers are making. To help get you started, here are some items to add to your UX Design To-Not-Do list:
1) Using Norman doors
That frustrated feeling you get when you push a door labeled "pull"? That's what you want to avoid in your UX Design. Nix elements that you don't intuitively know how to use, because it's not you, it's the poor design signals.
2) Leaning towards last resort UI elements
A hamburger menu sounds like a good thing until you see it opened out on a website. Considered a classic by many, it is ultimately a last resort UI element, given that we have so many better options now. It may be convenient and popular, but that doesn't make it the ideal choice for your users. A dropdown is another last resort UI element you could find more user-friendly alternatives for. We can help you there.
3) Relying heavily on eye-tracking data
While eye-tracking data, which focuses on central vision, can tell you where your users are looking, it won't tell you what they're paying attention to. Peripheral vision does a lot of guiding, telling people where to look next. So while the data is important, your UX designers should keep the very literal bigger picture in mind.
4) Being heavy-handed with the user engagement strategy
While you do need to keep your users interested, some efforts to engage them could be experienced as interruptions. Your users are on a mission to find the information they need or are interested in. Throwing in elements such as animation and music while they're trying to get something done could be downright annoying, pushing them to click away.
5) Ignoring Google guidelines
This one may sound obvious, but overlooking Google's guidelines will have a significant impact on your page rankings. UX design can make big contributions to SEO, so be sure your designers are factoring that in.
Good UX design doesn't exist in a space with blanket rules. It comes down to knowing your users well and often deciding to avoid what you know will not be well received by them. At Chittlesoft, we're believers in user-centric design that drives positive user experiences. Get in touch with us to chat about how we can help you reduce your costs with effective UI/UX design.