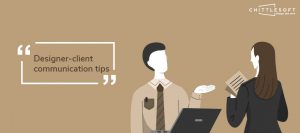 If you, like us, have been in the design game a good while, you know that solid client communication is one of the most important pillars of the design process. When it comes to clients, you get a range – from the low-involvement "do what you want, but just make it look good" kind to the "cyan doesn't work, how about a sea green?" kind that's involved in practically every design decision. Based on our experience with many different clients, we've put together some tips to help you score high in the client communication department.
1. Learn the lingo.
If your client is from the finance industry and you have an arts background, there is a chance you may not be able to clearly understand some of their jargon if, say, you are expected to design an EMI calculator with amortization tools. In such cases, designers must go the extra mile and read up on the subject or speak to the client's representatives to understand their jargon and deliver their design requirements.
2. But don't expect clients to understand design-speak.
They don't need to, because they are paying you to simplify their lives. So avoid throwing around terms like "mainframe", "vector drawing", "A/B testing", or "breadcrumbs". Instead, demonstrate visually what you are talking about using samples and prototypes to help them understand what you are referring to.
3. Understand how specific clients like to be communicated with.
i. Do they prefer emails, calls, or in-person meetings for regular updates? And how often?
ii. Always keep them in the loop about where you are in the design process. This is especially important when you are, for example, updating a client's mobile app design, which is a long process. Here, it's important to remain transparent about requiring more information or time to achieve the desired results.
iii. Maintain a record of all communication. Between texts and calls and emails, communication can turn into a game of Chinese whispers and even break down. Tap into your organizational skills to compile a record of all your communication with the client through all channels for easy reference and to keep things transparent.
4. Clearly demarcate the role of the designer and the client.
If the client is the kind who likes to give a lot of inputs, take them but draw the line at some point – for example, specify clearly that the aesthetics can be their call but designing and implementing technical aspects of the design are entirely your domain. If they ask for several updates in a single day, decide on a communication method and frequency that is comfortable and sustainable for both parties. This could be a daily email or call on how far the design has progressed. Set the rules so that they don't disrupt your process.
It is the designer's job to adapt to the client's requirements. Frequent and, sometimes, difficult communication is not everyone's cup of tea. Mastering this communication involves your readiness to work along the lines of the tips listed here. Building a good client relationship will also entail taking responsibility for things that go wrong, and finding the the balance between making the client comfortable and asserting your expertise. It means being diplomatic when the client offers inputs that may not be relevant to your work, while drawing the line where your expertise overrules their inputs. Such mastery, when achieved, will smoothen and quicken the communication process tremendously.