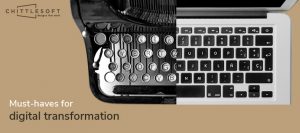 Digital transformation entails the integration of digital technology in all aspects of a business with the goal of creating a better customer experience. It demands continuous evolution and change in old processes. It is not just the adoption of new technology, but also the renouncing of old technology. A strong digital transformation strategy ensures that companies stay relevant in a fast-evolving technological environment. Such changes are driven primarily by changing customer expectations, resulting in innovative business models to create value for customers and offer them a unique customer experience.
Before implementing a digital transformation strategy, a company must be prepared for the change. Rocking the boat, so to speak, demands that a safety net be prepared beforehand. What does it take to smoothly implement a digital transformation strategy? Here are some must-haves.
A clear purpose and mindset
Jumping into digital transformation simply because everyone is doing it is a sure shot way of failing at it. Define why it is necessary through identifying customer needs and improving internal processes so as to ensure smooth movement through each step of the process. What is equally important is ensuring your team is ready for this kind of digital disruption. A digital transformation entails significant changes in traditional models of business, and it requires an open mindset that is ready to make a change and accept the consequence of this change.
A future-proof yet flexible strategy
Because technology evolves faster than it can be executed, ensure that your digital transformation strategy can withstand changes up to at least one year. Having said that, though it must be strong enough to withstand these changes, it must also be flexible enough to be modified as technology advances. Uprooting set processes every year may be a necessity, but the blow can be cushioned by having a system agile enough to adapt to new technologies. By continuously following trends and analytics and keeping up with changes in customer expectations, a flexible digital transformation strategy can be prepared.
A strong foundation
Digital transformation also entails the adoption of certain revolutionary technologies, such as big data, mobile analytics, and blockchain technology – a technology that simplifies information management – particularly for businesses that are based entirely online. Based on your business model, adoption of the latest technology is imperative to ensure that the goal of your strategy is met. While customer expectations drive digital transformation, creating a strong foundation of operational processes is critical to the smooth execution of the transformation.
Digital transformation helps eliminate operations that consume a significant amount of valuable time and replaces them with smooth-flowing digital solutions. At Chittlesoft, we help you execute a well-planned digital transformation strategy after understanding how your business works and then implementing thoroughly tested design solutions. If you haven't already looked into digital transformation for your business, there is no better time than now. Give us a call, and let's discuss how we can help you move from traditional time-consuming processes to faster digital processes to meet your customer expectations.