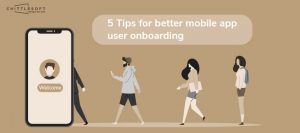 What does it take to convert a first-time user of an app into a regular user of an app? A quick, minimalistic onboarding experience, which is critical to user retention. Mobile app onboarding is the process of familiarizing users with the app before they begin using it. Onboarding could involve a feature carousel, i.e. a bunch of features explained to the user before they begin using the app, or it could involve having them input their login information, other data essential for the app to serve them better, or seeking permissions like location access.
Some best practices are essential to ensure that users don't uninstall the app after using it once. The app market is so competitive that it is easy to forget one app and move on to another. If your app is facing a user retention problem, then it's time to update your mobile app design with these tips from Chittlesoft on the best practices for mobile app onboarding.
1. Keep the onboarding time under a minute.
Most users who install an app want to start using it immediately. They don't want to spend time answering questions or even logging in. But if you must collect that information or if you must share critical information with them before they begin using the app, keep the time they spend on it limited. Also, informing them about the amount of time the onboarding will take is a good idea, eg: "logging in will take less than 30 seconds and will help us save your data. Would you like to do it now?"
2. Limit the number of screens used during onboarding.
While experts suggest that 5 is the maximum number of screens that users should have to swipe through before getting to the app, we think 3 is a better number. Of course, this does not mean you include more information in fewer screenshots. Keep in mind that users like to explore apps themselves rather than memorize a list of instructions on how to use it.
3. Choose dynamic over static screens.
Minimalistic graphics over screens full of text instructions on how to use the app. Short animations over static graphics. You can choose your style based on your resources and budget, but visual aids always have a greater impact than plain text.
4. Always offer the option to skip onboarding.
If login information is not necessarily required to use the app, allow users the "skip for now" option preferably on each screen of the onboarding process. They may want to get to using the app after they get the information they need on screen 2. Give them the option to do that.
5. Consider just-in-time onboarding.
This feature offers helpful tips to users just when they are about to use a particular feature – at a point where they may intuitively ask "what do I do next?" It makes it easier for users to remember how the app works.
Our team at Chittlesoft can help you create apps with a brilliant onboarding experience to help you retain users. Reach out to us and we can talk about your needs and our experience, and how we can put the two together.