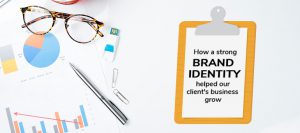 Creating a strong brand identity helps reduce the gap between your company and brand. It tells people who you are, and who your target audience is. An honest and unique character can bring more prominence and recognition to your company.
Chittlesoft helped build a brand identity for a well-known diagnostic clinic in Pune that provides advanced imaging technology and healthcare services. Our goal was to create a brand identity that reflected who they are. Read on to learn how the creation of a strong brand identity helped this diagnostic center:
1. It made the imaging center more prominent with a unique identity
With the help of the people at the imaging center, we were able to gain an accurate idea of what needed to be communicated about them as a company. This helped us revise their logo to one that represented them better, establishing their unique identity. The logo had an effective design and color that helped in making their presence known to potential clients, and even with other bigger competitors. While there are a lot of diagnostic imaging clinics in Pune, a brand identity helped differentiate this one from the others. As more people became familiar with them as a brand, they began to choose this center for their services. People are generally more comfortable opting for a brand they have heard of when choosing from a pool of companies offering a given service.
The elements used (logo, colors, and patterns) have repeatedly been used to represent their brand (including on various digital platforms – more on that later), and thus helped people associate these elements with the brand. This has helped in increasing brand awareness and recall for the company.
2. It attracted a target group that appreciated the values prioritized
When you incorporate a strong brand identity, your values can be communicated in different forms. This includes your product, vision, tone, images, and posts on social media. The core brand values of this imaging center were emphasized by communicating their high quality healthcare services and use of advanced technology. The benefits of these were shown on various digital and print media – better scans, leading to a more accurate diagnosis. This helped attract the target group that appreciated their values.
3. People could recognize them easily with a strong brand identity on digital platforms
By using important information from the imaging center on what represented their brand, google search ads could be made well and greater relevant traffic could be directed to their website. This has helped people recognize them as providers of reliable MRI and CT scan services. Several videos have been made and uploaded on YouTube, among other platforms. Since videos are known to help increase internet traffic, this is increasing their recognition. The brand presence has been made strong by posting and engaging their community on Facebook, Twitter, Instagram, LinkedIn, and YouTube regularly. This included ads on the first two platforms, using videos, images and keywords. An increase in followers has been seen on these platforms. Updates were made on Google business pages, and blogs have been posted regularly.
Because they were clear about what represents their company, the website could be designed in line with that. This helped in increasing the number of returning visitors. There was also a marketing campaign made for display in theatres. This involved creating effective designs for making in-theatre slides. There were important design elements that were kept consistent across these platforms. The logo has been used on posts on various platforms. Red and white colors are prominent in their digital presence. This consistency and accuracy in representation has made it easier for people, including current and potential clients, to recognize them.
4. The benefits of print media marketing that are unique and valuable were realized
Print media is tangible and involves a different experience as compared to a digital medium. Creative designs of various kinds (unique to this media) help in getting attention, at a time when digital marketing has become more common than print marketing. Standees (that were used in malls) and hoardings were made for this imaging center, which communicated the brand presence and identity to a greater number of people. Posters were made and used at their business partner centers. Since their business partners did work similar to them, this was an effective way to reach a newer audience – the clients of business partners, who may not have known about the brand. Since people tend to trust the firm that they are getting their services from (the business partners in this case), it was a conducive context to market this firm in. Their brand presence has been established on bags, business cards, envelopes, folders, book cover, envelopes and tent cards – using their input on the design that suits them. Even the MRI scan form and other consent forms incorporated design elements, which gave rise to a consistent brand presence.
There were lobby posters and door designs made, and a brand presence (through design) established near the reception area of the center. Graphic designs were made for doors and notice boards. This is known to help establish a sense of culture among employees, which in turn can reduce the gap between your brand and culture – since the company (through employees, among others) can then communicate true information about themselves. Posters and vouchers have also been made on occasions such as Dusshera, Women's Day, Doctor's Day and birthdays. Print media marketing helped increase brand awareness and recall, and helped the firm form a bond with clients as well as employees.
5. A strong brand identity established a sense of trust
By placing an emphasis on the superior technology and accuracy in diagnosis, there was a greater trust obtained with the target customers of this firm. Patient testimonials were communicated through videos and posts on the website and other platforms. People who wished to recommend the brand to others were given a platform to do so. Since the first impression of this company could be made through the website, it was a useful way in helping people trust the company more. With the people having a clear sense of the brand, it could be accurately communicated, which improved brand awareness and recall. There is accurate information given on the number of patients diagnosed, scans performed, and expert radiologists which is updated regularly (on the website). There is also qualitative information about the aspects that are prioritized over others – advanced imaging technology, focus on pediatrics, and organ-special radiologists.
6. Their strong brand helped them expand
With a strong brand identity, you can take some risks and modify aspects of your products. New products and services introduced in the market have a greater chance of being received well. People may be more willing to give you feedback that will help make necessary changes to improve your product. There is also a greater chance of the same products working well in new markets, because there are more people recommending your company, when it has a strong brand identity. In the case of this particular imaging firm, there has been more engagement on their social media platforms – Facebook, Twitter, and Instagram – with daily posts, which has helped increase brand awareness. Feedback forms were made, and an increase in feedback obtained, which was incorporated by them in a timely manner and helped them expand. The center has even opened a new branch in another part of the city, which is being recognized well. YouTube videos were made to give people information about this new center. They could get the right (new) customers and tell people who their target group is.
The team at the diagnostic center knew their brand well, which enabled them to direct Chittlesoft regarding which aspects of their work to emphasize, such as advanced technology. This also attracted a suitable target group, who appreciated them for their priorities. This got them more recommendations. Well-made google search ads and videos helped increase traffic. It also helped them have a stronger presence on Facebook, Twitter, Instagram, LinkedIn, and YouTube. By using a consistent design across all platforms, their digital presence was made stronger. This increased brand awareness. Designs used on print media were also effective. Office designs helped bring a stronger identity to the culture. Standees used in malls and hoardings were made to tell people what the brand was about. The website design was also changed to give accurate and suitable information, which helped establish a sense of trust. By incorporating feedback well, they could expand to another location, and consistent designs were used in the newer branches.
How well do you know and present your brand? We can work with you to create a strong brand identity that's good for business! Get in touch with us here to learn how.