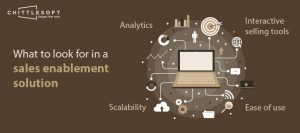 Sales enablement involves the coming together of the processes, information, and tools (including the marketing approach/strategy of the company) that are essential to complete the sales process, based entirely on a customer-centric approach. Research suggests that customers are already significantly informed about a product before they engage with a salesperson. Unless a salesperson can give them information that is new and unique, customers will not be engaged in the buying process.
Essentially, a sales enablement solution must be such that it keeps customers engaged throughout the buying journey. So what does a good sales enablement solution look like?
Features of a good sales enablement solution
Ease of use
A good sales enablement solution should comprise a good content management system that allows the sales team to use the content created by the marketing team – infographics, videos, presentations, and other literature – and allows this content to be discovered easily, whenever required. It has been found that sales teams often are not aware of the content created by their teams, and so this content is often wasted. In addition to content management, teams collaborating with the sales team, such as marketing, should be able to update their information on the sellers' portal effectively.
Analytics
A sales enablement solution should be equipped to provide insights into key measures of the success of the sales strategy, such as the length of the sales cycle and the effectiveness of the content being used to close the deal. Having this data in one place, streamlined and ready to use, can help the teams modify, strengthen, and create new strategies to meet their goals.
Scalability
Be it CRM or analytics integration, or simply a portal where multiple teams get to collaborate, the sales enablement solution should be scalable – in simpler terms, whether you have a team of 2 or 2,000, they should all be able to use the solution effectively. This applies even to other teams such as the marketing team, who should be able to utilize the platform to collaborate smoothly. Further, this platform should be accessible on all devices – on site and on the go.
Interactive selling tools
The integration of tools such as ROI calculators enable easier analysis of the customer interaction with the sales team in terms of the financial impact the product has on the business and the customer. More importantly, CRM integration is critical to allow the sales team access to customer information quickly, in addition to holding the content required to move the customer through the sales process to close the deal. Effective sales enablement solutions comprise these tools to improve the sales approach of the company.
Chittlesoft can help you create a solid sales enablement solution that understands your sales channels and implements measurable tools that allow you to truly understand your sales approach in relation to customer expectations. Get in touch with us and let's talk about your business, your sales enablement requirements, and how we can help you meet these needs.